The Gender Retrofit Kit is being demonstrated by the U.S. Army Futures Command in the Joint Program Manager for Medical Modeling and Simulation booth 2185.
ORLANDO, Florida. December 2, 2019 — After finishing initial development of a gender retrofit kit to integrate with existing human patient simulators, SIMETRI is updating the kit in response to testing conducted by the Army Medical Department (AMEDD). The new contract awarded by the Army Futures Command, is addressing changes to the breast design for movement and realism while still targeting maximum durability. The testing also indicated that minor form, fit, and function design changes could result in a much-needed training capability.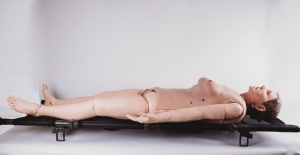 "This valuable feedback will help guide us in upgrading this training capability to ultimately improve the performance of the caregiver, and ultimately save lives," explained Angela Albán, SIMETRI's president and CEO. "With the growing number of females in all of DoD enlisted forces, ensuring the medical provider is adequately prepared to treat both males and females with the same level of confidence can be the difference between life and death."
Tension pneumothorax is the second leading cause of preventable death on the battlefield and is treated by performing a needle chest decompression, which requires exposing and palpating the chest area.
"Research showed that women with chest injuries on the battlefield were not being properly examined for a chest wound and the correct diagnosis was being missed. The resulting tension pneumothorax, a condition that can cause death but is preventable if treated properly, is not being detected and treated" said Albán. "The intent of the retrofit kit is to ensure that those caring for injured soldiers are comfortable and prepared to care for female casualties without delay."
The gender retrofit kit facilitates using an existing human patient simulator, originally configured as a male, to simulate a female casualty, therefore extending the training capability of an existing asset to better prepare the warfighter to care for female casualties.
Battlefield situations require a provider to expose and examine a female casualty's body so any hesitation on the part of the provider could compromise the injured casualty's life.
The gender retrofit kit will be shown by the U.S. Army Futures Command at the Interservice/Industry Training, Simulation and Education Conference in the Joint Program Manager Medical Modeling and Simulation (JPM MMS) booth 2185.