Every Monday
October 6, 2014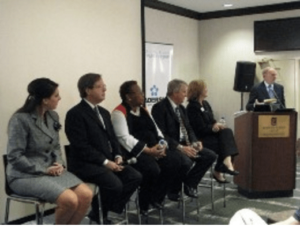 Class Chair Carol Craig, Founder and CEO of Craig Technologies, reassembled the eighty members of Class 88 on Thursday at the Embassy Suites Hotel Orlando for a session packed with elected officials and candidates presented by BusinessForce, Board Members of Orlando, Inc., and graduates of its Entrepreneurs Academy.
During the course of the day, each of our special guests shared their insights on the current political landscape as well as the issues and challenges currently being faced by elected officials and citizens in our state, along with the voices of our Chamber Board Members on how they connect across our region with new entrepreneurs who are making a name for themselves in the challenging entrepreneurial sector of our economy.
After providing an overview of BusinessForce, Michael Ketchum led a discussion "Fresh Off the Campaign Trail" with (l to r) Rep-Elect Jennifer Sullivan (R-Mt. Dora), Florida House District 3; Scott Plakon (R-Longwood), Candidate, Florida House District 29; Sen. Geraldine Thompson (D-Orlando), Florida Senate District 12; Rep. Bryan Nelson (R-Apopka) Candidate, Orange County Commission District 2; and Rep. Karen Castor Dentel (D-Maitland), Florida House District 30. Ketchum also provided a summary of the latest polling data provided by the Florida Chamber of Commerce and Associated Industries of Florida, providing perspective on voter profiles and incumbent approval ratings at the state and national levels, as well as on the proposed ballot initiatives.
A highly-charged discussion of the proposed amendment to legalize medical marijuana gave our participants a lot to think about as the November election draws near. Moderated by Greg Warmoth, WFTV/WRDQ, Dr. Jessica Spencer, Statewide Coalition Director for Vote No on 2 faced off with Mike Morgan, Morgan & Morgan, P.A., representing People United for Medical Marijuana. The afternoon focused on entrepreneurship, with Jose Fajardo providing an overview of Orlando, Inc., (Orlando Regional Chamber of Commerce), followed by a discussion of engagement in regional entrepreneurship with his Board Members, (l to r) Carol Craig, Chair, Leadership Orlando Class 88; Shari Dingle Sandifer, Avant Healthcare Professionals and Chair of Orlando Inc.; Tom Cannon, Co-Founder/CEO, BungoBox; Julie Colombino, CEO & Founder, REBUILD Globally; Angela M. Alban, President/CEO, SIMETRI, Inc.; and Wendy Kurtz, President of Elizabeth Charles & Associates, LLC.
In wrapping up the day, Carol Craig acknowledged the variety of topics covered during the session from 'politics and pot' to the importance of getting 'your soles to the polls' taking into account the divergent opinions and passions connected to the issues and candidates that are part of the democratic process.
If you've been looking for the 'right' time to participate in Leadership Orlando, or if know someone who should be in the room for these discussions, now is indeed the perfect time to be a part of America's largest Community Leadership program, Leadership Orlando. Preparing for the future of our region is up to each of us. Take time to learn about the issues and participate in the community conversations that are helping to guide our future.
Class 89 begins in March 2015, with Tony Jenkins, Market President, Central Florida, Florida Blue, serving as Class Chair. The online enrollment form and full schedule is available at www.LeadershipOrlando.org. Should you have questions, contact Danielle Gulasa at 407.835.2444, or via email at [email protected].